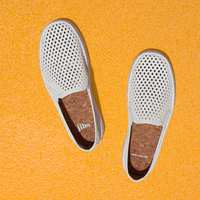 Behind Each Pair of Jibs
Our job is fun, but we take footwear seriously. Ever wonder how we can design shoes that are so flexible and soft, but ready for anything the day throws at you?
WHERE IT ALL BEGAN: BRAZIL

Our shoes are handmade by footwear specialists in Brazil who have a legacy of craft and use a bio/eco process with earth friendly chemicals, less water usage and biodegradable features - all tested and certified in Spain. They use locally sourced materials from family owned businesses that care for quality + sustainability.
Our Biodegradable Leather
Every pair of Jibs features a proprietary leather that is 98% biodegradable and composts in under 200 days (as per in depth testing with RBT chemical industry). Typical leather is 30% biodegradable and composts in 50 years!
How? We use genuine Brazilian leather (byproduct of the meat industry) which is treated with a special non-toxic blend of chemicals to relax the leather and allow it to biodegrade quickly when disposed of after use, creating less overall long term waste on the earth. During this process we also ensure a great reduction in total water usage compared to traditional chrome leather tanning.
We are super proud that our tannery is a member of the Leather Working Group (LWG) a not-for-profit organization responsible for the world's leading environmental certification for the leather manufacturing industry. The LWG is also 1 of 6 sustainable certified organizations recognized by Zappos Goods for Goods program we are actively involved in.
Our Iconic Diamond Perforation
From the very first prototype, we knew there really is magic in the diamond. With our customized diamond perforation, our shoes are odor free, anti-sweat and react to your body temperature, so they'll keep you warm in the cold and cool in the heat. On top of that, this perforation allows the leather to stretch in only the areas of the foot that needs it.
Fun fact: this diamond design is also where we got our name. The Jib is a triangular forward-most sail that collects the wind to guide a sailboat in its desired direction.

Natalie Kathleen, Founder and CEO
Cork Insole
We knew we wanted a natural material to stand on (the insole) as this is most grounding to keeping our feet healthy, and our bodies healthy, since we're on our feet all day.
After A LOT of R&D, we landed on a memory foam + moisture-wicking natural cork insole for an odor free, ultra comfy experience. Our insole has "neutral" arch support, but fully removable, to allow for you to use your own orthotics/ higher arch insoles.
The Fit
Our special diamond perforations stretch as much, or as little, allowing for a unique fit to your exact foot shape. Jibs intentionally fit large in order for the un-lined soft Brazilian leather to naturally stretch and take on the unique shape of your foot. See our sizing page for more info and guidance.
The Result: Slip on and Go
Our proprietary footwear marries flexibility and softness with a touch of stiffness to make the most comfortable quality shoe. Jibs already has that worn-in feeling straight out of the box, so it takes less time to get a super comfy fit. Our designs are all ones that are flexible and you can slip into - so you can slip on and go. And have a nice day.
Visit our FAQ page for common questions or our About Us page for more on our story + company values.